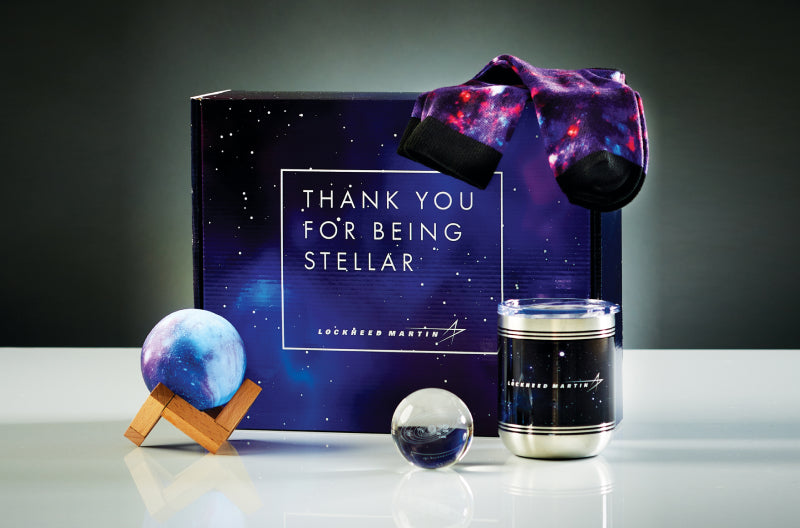 Translation missing: en.sections.article_template.title:

Lockheed Martin - One-of-A-Kind Gifts

Custom gifts that create lasting connections for high-impact.
Written by: YOUR GIFTING GURUS
Delightly's One-of-a-kind-Gifts: A Case Study for Lockheed Martin
Client Background:
Lockheed Martin is an American aerospace and defense company that designs and manufactures a range of products and services related to security, space exploration, and advanced technologies. It was formed in 1995 through the merger of Lockheed Corporation and Martin Marietta, and is now one of the largest defense contractors in the world.
Lockheed Martin has a diverse range of products and services, including aircraft such as the F-35 Lightning II, helicopters such as the MH-60R Seahawk, missiles and missile defense systems, satellites and space exploration technologies, and cybersecurity solutions. The company also provides advanced technology solutions to customers in the government, commercial, and international sectors.
Corporate Gifting in need of more delight:
Lockheed Martin travels to new heights on the daily and they needed a corporate gifting partner to mirror their efforts for innovation. The company's services have become increasingly relevant, especially in the age of remote work and limited travel experiences for a global and diverse workforce. The client wanted to create a meaningful connection between their employees and the company's core values and demonstrate gratitude and appreciation at a time when lockdowns and in-person events were a lackluster option, and gift cards were simply underwhelming. 
Happy Gifting solution:
The challenge was to create a gifting experience that would not only make employees feel appreciated but also align with the company's values of excellence, innovation and creativity. The gifting solution needed to be scalable, as it had to be shipped to 20,000+ employees across different locations. The timeline for the project was three months! A fully custom gift ready to arrive around the world in the speed of light-- let's get gifting!
Delightly sourced products from around the world and conducted quality checks to ensure that each product met their client's standards, and ensured these kits were shipped to employees' doorsteps within the timeline. The kit included high-quality products relevant to each employee's interests and hobbies. 
This was an exhilarating experience for Delightly to support Lockheed Martin's goals for corporate gifting to drive impact for employee connections to company mission, vision and core values.
When in-person experiences are short-lived and travel gets complicated, engineering the client's values of excellence for new ideas guided gifting curation to another galaxy
20,000+ one-of-kind kits were 100% customized and shipped to employees' doorsteps in three months
Product Development iterations were conducted to the highest level of frontier finding experiences
Delightly gifting experts magnify cool ideas that outlast outdated swag closets, predictable gift cards or group tickets to random venues.