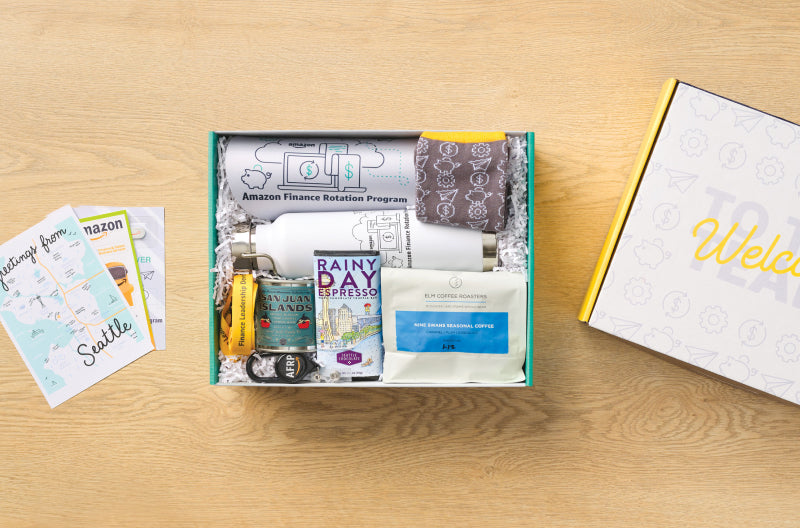 Translation missing: en.sections.article_template.title:

Amazon – Onboarding & Employee Recognition

Global innovators that gift like you mean it, from Day 1.
Written by: YOUR GIFTING GURUS
Delightly's Onboarding Programs: A Case Study for Amazon
Client Background: Amazon
Amazon is a global technology company known for its innovation and disruption of traditional retail markets. With over 1.3 million employees worldwide, Amazon recognizes the importance of employee recognition and celebrates achievements regularly. Amazon reached out to a gifting company, Gift Like You Mean It, to curate unique gift sets for their employees.
Corporate Gifting in need of more delight:
Amazon's challenge was to find a gifting solution that aligned with their values of innovation and performance.The gifting solution had to be scalable, as it needed to be shipped to employees on-demand. The gifting experience also needed to reflect Amazon's culture and provide a sense of pride and recognition for their employees.
Happy Gifting solution
Working with specialized departments, Amazon wanted to create a gifting program that matched their core value of Day 1 performance throughout the year. Amazon is known for delivering smiles, and they needed a corporate gifting partner that could add that sparkle and delight to deliver high-impact corporate gifts that exceeded their employee's expectations.
Utilizing Delightly's global sourcing experience, our Custom Curation Team provided fully custom gift kits for specific departments to create those delightful moments of recognition. The gifting team curated, stored, and shipped gifts as the client's gifting needs arose. The gifts were 100% customized from packaging, personalized message and personalized components for each employee-- including unique gifts from Seattle, the company headquarters, to create authentic connections and add a special gifting touch of 'wow.'  
Achievements are worth celebrating! When you're an innovative leader where every day is Day 1, unique gifts that elevate performance make a perfect pairing
We curate, store, and ship as the client's gifting needs arise, with over 500+ smiles delivered
Curated gift sets for specialized training, department programs, and HQ (Seattle) location-centric gifts
Delightly provides companies with all the options--gifts matching company values, ethos, locations, events and programs to create those delightful moments of recognition.