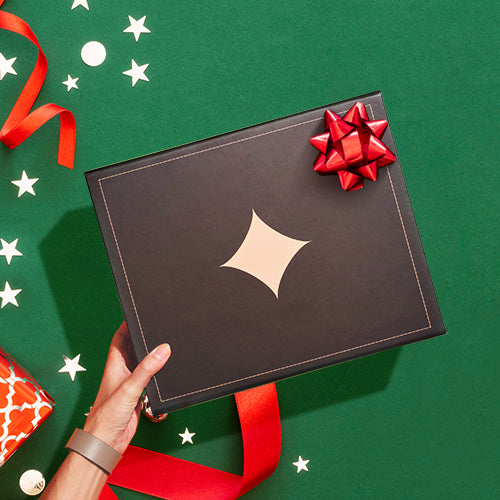 Translation missing: en.sections.article_template.title:

The Perfect Gift Box to Make Your Employees' Holidays Merry and Bright

There's a sense of gratitude swirling in the air and Delightly is here to enhance the season's greetings.
Written by: Lindsay Merdzinski
It's beginning to look a lot like the holidays—festive colors popping up everywhere, frosted sugar cookies in the breakroom, "Jingle Bell Rock" on repeat. You might notice your employees catching some of that holiday spirit too. There's a sense of gratitude swirling in the air, as well as more lighthearted, cheery attitudes around the workplace.
This is exactly when we, as vested employers, should take action: it's an ideal opportunity to lift our employees to new, starry heights, making them feel even more bright and appreciated. We know it's tough, though, to find that memorable gift that perfectly sums up everything you feel about them. That's why we're dashing in to offer you some easy, but meaningful, gift box options that are destined to make everything merrier.
Gifts Really Do Make a Difference
This isn't the time for us to sit back and watch the employee cookie exchange from afar. We need to dust off any bah-humbugs and make a real effort to give our teams a gift with purpose. Being duly recognized makes a notable impact on the overall employee experience, so employers must recognize that their staff members thrive when they're appreciated and valued.
Research compiled by Gallup and Workhuman found that "employees who receive the right amount of recognition for their work experience lower burnout, improved daily emotions and stronger relationships with their co-workers." Further, the research shows that "when employees have thriving wellbeing and are experiencing the best recognition experiences possible, they're more likely to be a top performer and to feel like they're paid fairly, and are less likely to be actively looking or watching for job opportunities."
However, employees don't just want any old recognition or ho-hum thank you. The right gift truly makes a difference. Sure, gift cards are popular, but they certainly don't sing, "Hark! You're extra special." So why not put your gratitude on its most dazzling, light-filled holiday display with a perfect gift box? You'll earn way more kudos (think productivity, morale, and retention), and we guarantee you'll even make Santa's nice list.
The Art of Giving
Gifting it right every time truly is an art, and you can always count on us here at Delightly to perfect any gift box we create. We've spent hundreds of hours carefully curating each one, and our holiday line-up is no exception. No one says, though, that snowmen and mistletoe need to adorn every holiday gift. All our gift boxes offer that "just right" feel and make a big impact.
Whether you choose one particular gift box for every employee, or you hand select a box for each individual, you're showing that you've taken extra care in choosing a holiday gift with intention and meaning. As a LinkedIn article about gifts reminds us, "Gifting is an art that transcends material value and touches the core of human emotions."
Embrace the Spirit of Giving
We're in the business of building connections and creating lasting relationships, and we know how much a genuine, heartfelt gift matters. We can help you embrace the spirit of giving by making the gifting process affordable, streamlined and as easy as possible. We do the heavy lifting; you get all the sparkle.
Here are just a few of our many fun and thought-filled options:
We Appreciate You: chai tea, cozy socks, and an appreciation mug ensure your employees stay warm and cozy all season long.
Raising a Glass: whether they're crafting mocktails or mixing cocktails, this set will have your whole team lifting a glass to celebrate each other.
Just Breathe: the holidays can be stressful, so bring a Zen moment to their lives with this relaxing gift set.
Cheers to Your Hardworking Team
It's the most wonderful time of the year to recognize and applaud the talented, hardworking team you've built. They're committed to you, so show them you're committed to them too—ignite their holiday spirit and elevate their assuredness that your business is exactly where they belong. This holiday season (and always), give them the appreciation they deserve with a meaningful gift overflowing with your genuine gratitude. Cheers!
Remember: we've got you covered all year 'round. From birthdays and onboarding to milestone moments and everyday appreciation, our gift boxes are sure to
bring the magic to every occasion.