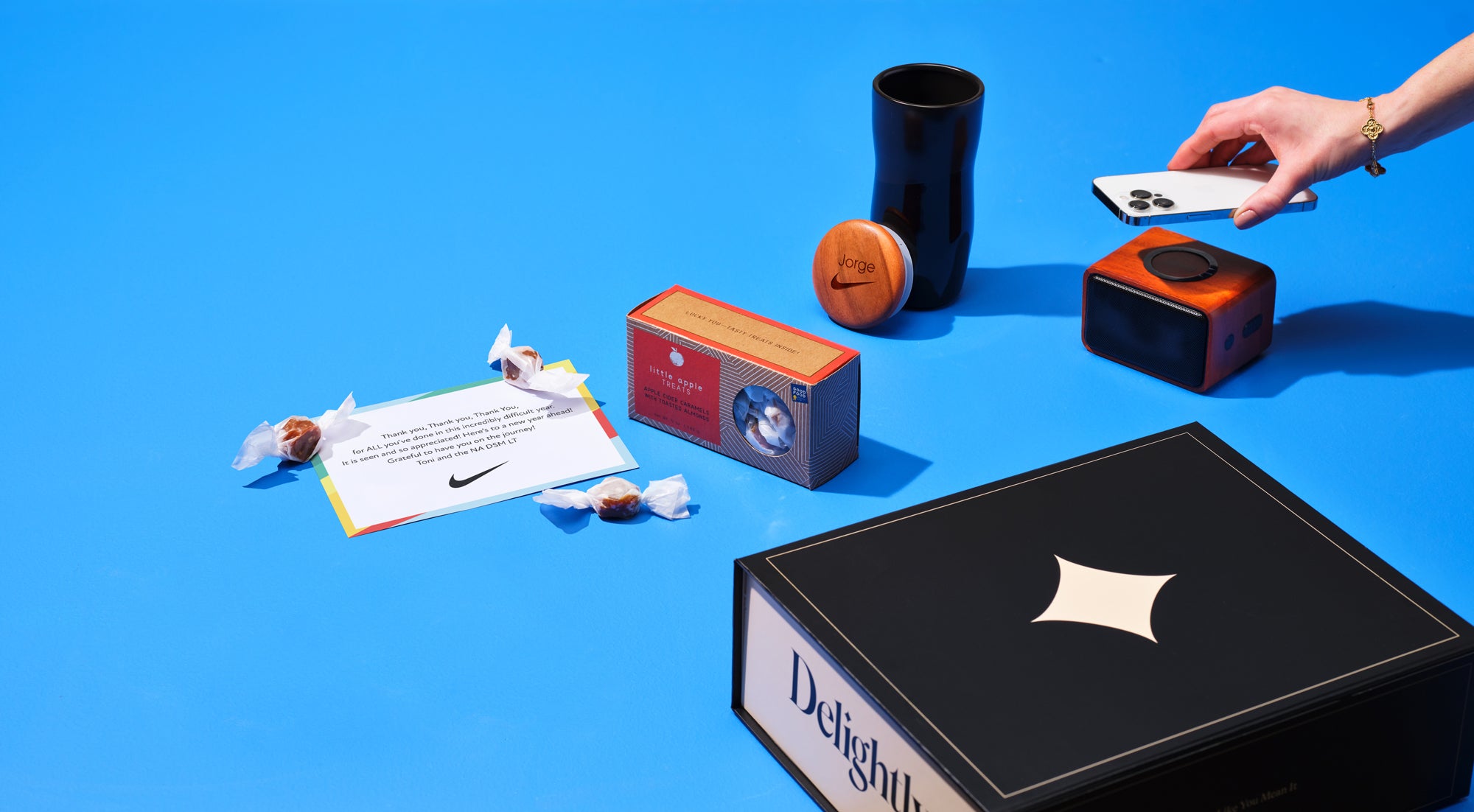 Translation missing: en.sections.article_template.title:

Nike - Personalized Team Appreciation

Personalized gifts ideal for the latest workforce trends with no contracts or huge bulk-buy requirements. 
Written by: YOUR GIFTING GURUS
Delightly's Personalized Team Appreciation: A Case Study for Nike
Client Background:
Nike is a global leader in the sportswear and athletic apparel industry. The company prides itself on creating innovative and high-quality products that empower athletes to perform at their best. With over 75,000 employees across the world, Nike recognizes the importance of fostering a positive work culture that encourages teamwork, collaboration, and recognition for outstanding contributions.
Corporate Gifting in need of more delight:
Nike wanted to show gratitude to its employees for their hard work and commitment to the company. As the workforce trends continue to evolve, Nike recognized the importance of personalized gifts that would strengthen cultural bonds within its team. The company was looking for a partner that could deliver high-quality, personalized gift sets that showcased the Nike brand while also being tailored to each recipient's individual preferences.
Happy Gifting solutions:
Delightly was recommended to Nike as the ideal partner to meet their gifting needs. Delightly specializes in delivering high-quality, personalized gifts with no contracts or huge bulk-buy requirements, making it the perfect choice for Nike's diverse workforce.
After an initial consultation with Nike, Delightly's Custom Curation Team got to work creating over 350 gift sets that featured Nike's logo and branding, as well as personalized packaging and gift components for each recipient. The team worked to ensure that every gift set was unique and tailored to the recipient's preferences, taking into account their likes and dislikes, hobbies, and interests. With Delightly's streamlined process for corporate gifting, you don't have to worry about the logistics of managing multiple vendors.
Delightly also made sure to use high-quality sustainable materials and packaging to ensure that the gifts looked and felt premium to bring the extra magic to corporate gifting. 
Personalized gifts that show gratitude for team commitment and cultural bonds for evolving workforce trends
350+ gift sets with company logo and branding paired with each recipients' personalized packaging and gift components delivered to employees across the U.S. in less than a month from initial client inquiry
Stress-free and one-stop-shop convenience for high quality and fast service
 Delightly has the people, product and process for individualized gift personalization with no contracts!